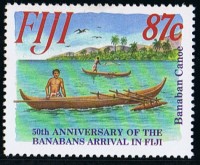 BANABAN CANOE by aukepalmhof » Mon Dec 12, 2011 7:35 pm shipstamps.co.uk
Fiji issued in 1996 a set of stamps for the 50th Anniversary of the Banabans arrival in Fiji, the 87c shows us a canoe as used by the Banaban people on Rabi Island. The Banaban islanders used an outrigger canoe they called "te wa" on their Banaban island also named Ocean Island. After Word War II almost all of the native people were relocated to Rabi Island one of the Fiji group. The canoed depict on this stamp shows us a modern built canoe not the traditional canoe used on Banaban.
In 1875 Captain MacKay of the Queensland brig FLORA wrote after visiting the island: Their canoes are beautiful specimens of savage skill and mechanism, constructed wholly of pieces of small pieces of wood, neatly sewn together with sennet made from the coconut fibre; each end is raised, with a curve of about ten feet above the deck, beautifully carved and inlaid with pearl and tortoise shells. In these frail craft they venture many miles away form their islands. Many of this frail craft have been lost or were drifting away. In 1900 Albert Ellis wrote: The high prows of the craft and their fine lines made them both attractive and seaworthy.
They were not dugouts but properly built with small pieces tamana wood boards, laboriously hewn from local timber, no nails were available and in many cases the strong coconut sinner neatly laced along the plank edges was more suitable, and better able to stand the shock when the canoes were dashed on the reef by the surf, as was inevitable the case at times. They were of a light construction and capable of holding a crew of five, could be readably carried down the beach and across the reef by two men. A canoe this manned would made good headway against quite a heavy sea and the strong equatorial current.
The canoe was an invaluable item in the Banaban equipment. Today the canoe ( as seen on the stamp) in use by the Banaban people living on Rabi Island has a flat prow as Rabi Island has not the rough surf as around Banaban Island. Made nowadays of modern material so as marine plywood and fastened with copper nails and screws. Fiji 1996 87c sg939, scott750
Source: Te Rii Banaba by Raobeia Ken Sigrah Stacey M King.